Features and Benefits
- Robot, MLC, and LINAC Quality Assurance
- Real-Time Beam Capture
- 3D Beam Vector and Profile Measurements
- Proton Beam Compatible
- Saves Time and Reduces Costs
- CT Scanner Compatible Detector Phantom
- Fast Update Any-Viewpoint Display of Beam Vectors and Profiles
- GUI or Automated Measurements
- Quick Data Export to Spreadsheets and Graphing Software
- Flexible Script Driven Environment
- Setup and Training Included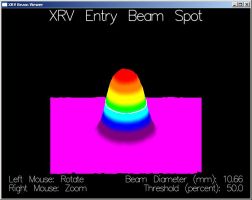 3D Beam Profile Viewing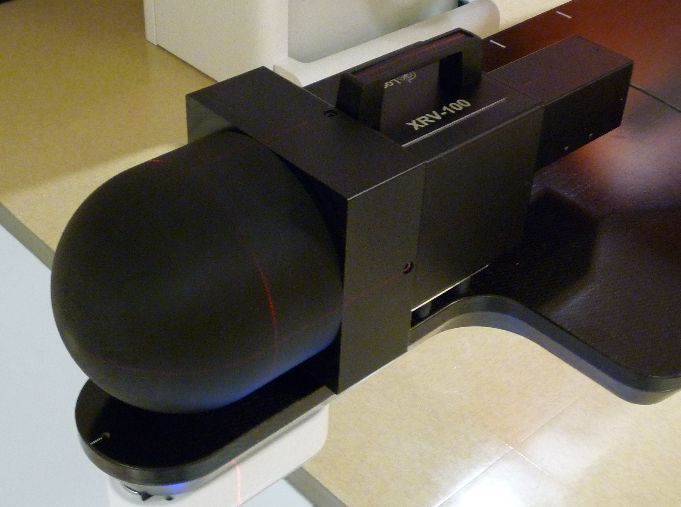 The XRV family of X-ray and proton beam inspection systems combines precision metrology with high-energy radiation detection to form a completely electronic alternative to film-based measurements. The XYZ location and vector of pencil-thin beams of radiation can now be measured with unmatched speed and accuracy. Beam vector, profile and divergence can be obtained in seconds rather than hours. Automation scripts can be used to record changes in the beam shape, intensity, location, and direction over time for use in later analysis or 3D volumetric reconstruction.
XRV systems verify that the stereotactic radiosurgery subsystems (robot, collimator, linear accelerator, and kV imagers) are working together to accurately deliver radiation to the irregularly shaped lesion volume. The correct operation of mechanical leaf collimators used in these systems can be quickly verified before or after treatment. Beam measurements are accurate to .2 mm and measurement repeatability is typically .02 mm. Vector and beam viewing software enables real-time any-angle viewing of the captured data.
All operations are controlled by a laptop or desktop PC supplied with the detector phantom. The XRV comes standard with a 3 - 30 meter (100 feet maximum) USB cable system so the system PC and operator can be located safely away from the treatment room. The detector phantom weighs approximately 8 kilograms (17 pounds).