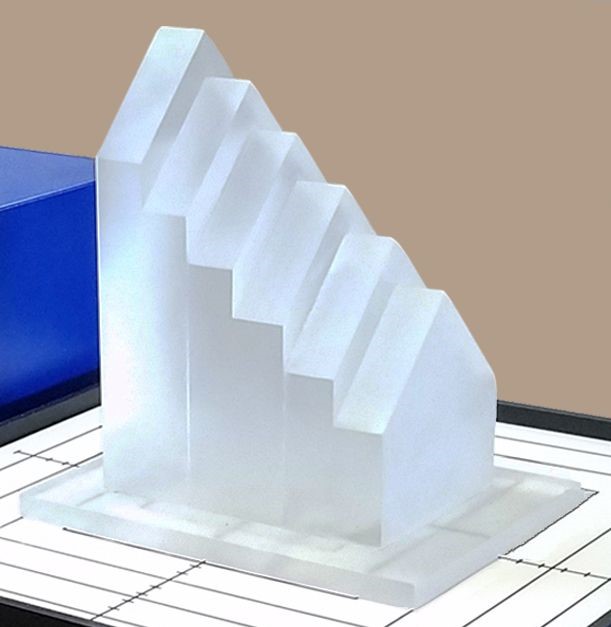 The LCW-200 is an acrylic (PMMA) dual wedge that can be used to measure Proton beam and X-ray depth-dose relationships. It was designed to quickly provide accurate proximal edge measurements of an ion beam's Bragg peak penetration range. The height of 212 mm allows proton beam equivalent penetration depths in water of up to 235 mm to be directly captured and measured.
The chevron wedges overlap so that measurements on the edge of one range can be duplicated at the beginning of the next. The wedge angle of 45 degrees enables symmetrical measurements to be made on each side of the center line and averaged for greater precision.
The 100 × 70 mm footprint allows the LCW-200 to be mounted securely above the scintillator of the XRV. The LCW-200P has wider chevrons (24 mm) and is recommended for the XRV-2000 Falcon, XRV-3000 Eagle, and XRV-4000. Mounting hardware firmly locks the LCW above the XRV target so that measurements can be easily made at any angle by rotating the phantom in its gantry cradle.
The acrylic (PMMA) composition of the LCW-200 has a water equivalent density of 1.17 for direct measurements of Bragg peak Proton depths up to 235 mm. More energetic beams can be accommodated by padding the bottom surface with additional acrylic or tissue equivalent plastic. The patent pending design may be enhanced with additional chevrons, so please contact us for custom configurations.
Features and Benefits:
Fast Bragg peak measurement of water equivalent Proton beam range up to 235 mm
212 mm tall
Acrylic (PMMA) composition
Regular 100 × 70 mm and plus-size 100 × 140 mm footprints
Accuracy better than 0.5 mm
Measures Proton and X-ray beam depth-dose relationships
Mounting hardware available for XRV-2000/3000/4000
Easy handling for use at all gantry angles
Compatible with film
Automated image analysis and software measurement
35 energy layer Excel analysis template provided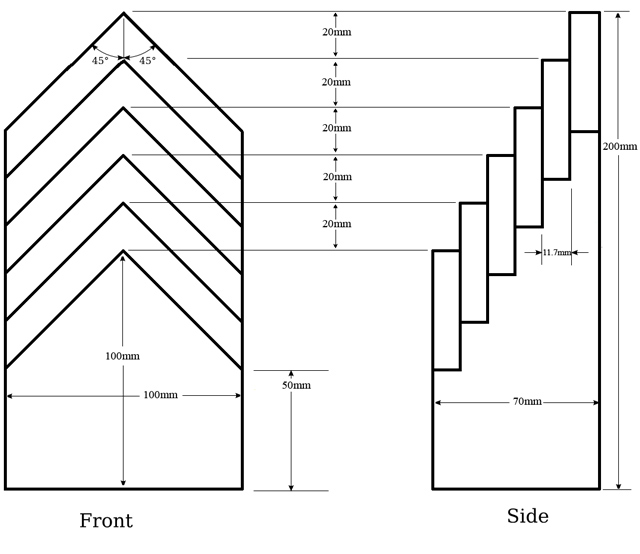 ---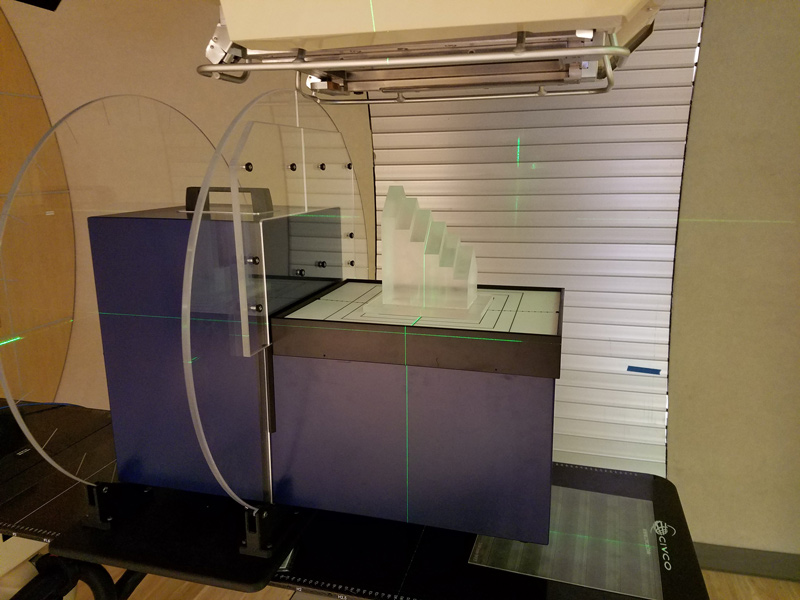 The LCW-200P acrylic (PMMA) dual wedge has 24 mm thick chevrons yielding an overall footprint of 100 × 140 mm.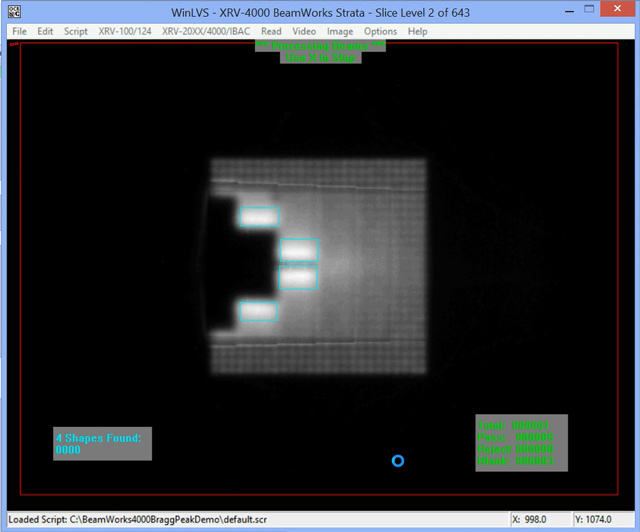 The WinLVS capture software has a built-in scripting language that facilitates automatic real-time capture of the multi-energy even-dose delivery pattern needed for Bragg peak measurements.
After each layer has been delivered, WinLVS merges the captured PBS image streaks to form complete radiographs. Once the 35 layers of the plan have been delivered, the Bragg peak regions on the radiographs are isolated and measured with the CSV formatted data being output to file. This CSV file can then be imported into an Excel template where the Bragg peak penetration depths are calculated.
---
LCW-200P Chevron PBS Proton Beam Bragg Peak Data Summary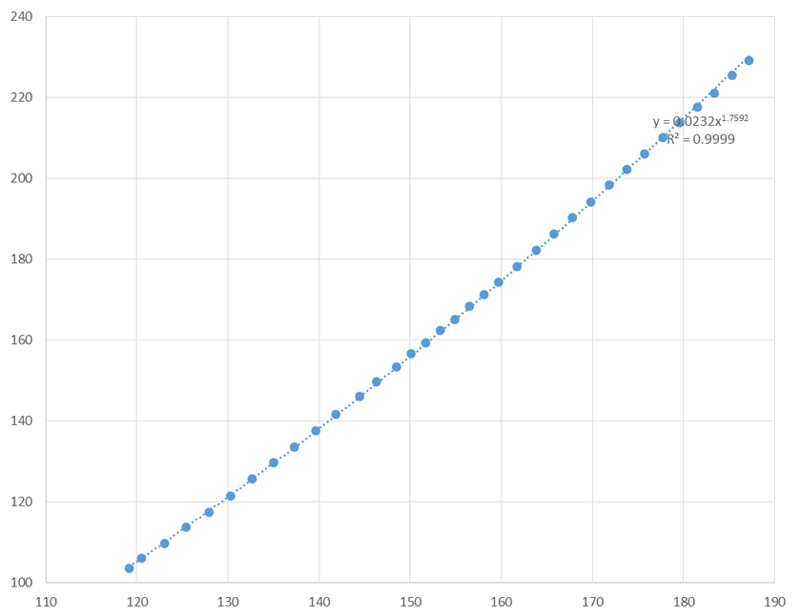 LCW-200P/XRV-4000 Data from two deliveries of the same 35 layer even-dose diagnostic plan starting at 189 MeV and ranging downwards to 121 MeV:
Delivery A Data (BPD = Bragg peak Penetration Depth)
Layer
Plan Layer Energy (MeV)
Post Snout Energy (MeV)
Change
Chevron BPD (mm)
Change
Mathematical BPD (mm)
Change
Delta BPD (mm)
(Absolute value)
Delivery B Delta BPD (mm)
BPD Difference between Delivery A and B (mm)
1
189
187.2
229.209
230.5681
1.359083
1.359083
1.219975
0.139108
2
187.1
185.3
-1.9
225.5437
-3.6653
226.465
-4.10312
0.921263
0.921263
0.780438
0.140824
3
185.2
183.4
-1.9
221.1806
-4.36309
222.3937
-4.07126
1.213098
1.213098
1.072281
0.140816
4
183.3
181.5
-1.9
217.66
-3.52064
218.3544
-4.03932
0.694418
0.694418
0.837044
0.142626
5
181.4
179.6
-1.9
213.8899
-3.77006
214.3471
-4.0073
0.457176
0.457176
0.385849
0.071327
6
179.5
177.7
-1.9
210.2054
-3.68455
210.3719
-3.9752
0.166523
0.166523
0.380364
0.213841
7
177.5
175.7
-2
206.2218
-3.98356
206.2223
-4.14966
0.000421
0.000421
0.071623
0.071201
8
175.6
173.8
-1.9
202.3213
-3.90055
202.3132
-3.90906
-0.00808
0.008084
0.007566
0.000518
9
173.6
171.8
-2
198.47
-3.85133
198.2334
-4.07985
-0.2366
0.2366
0.308172
0.071572
10
171.6
169.8
-2
194.271
-4.19894
194.1895
-4.0439
-0.08156
0.081556
0.06316
0.018397
11
169.6
167.8
-2
190.2904
-3.98058
190.1816
-4.00785
-0.10883
0.108828
0.108594
0.000233
12
167.6
165.8
-2
186.2387
-4.05175
186.2099
-3.9717
-0.02878
0.028781
0.02881
0.000029
13
165.6
163.8
-2
182.3415
-3.89721
182.2744
-3.93545
-0.06702
0.067023
0.068309
0.001286
14
163.5
161.7
-2.1
178.203
-4.13849
178.1814
-4.09309
-0.02162
0.021621
0.269923
0.248302
15
161.5
159.7
-2
174.3163
-3.88672
174.3206
-3.8608
0.004303
0.004303
0.069978
0.065675
16
159.9
158.1
-1.6
171.2277
-3.08857
171.2583
-3.0623
0.030565
0.030565
0.102261
0.071697
17
158.3
156.5
-1.6
168.4256
-2.80212
168.2194
-3.03884
-0.20615
0.206148
0.134575
0.071574
18
156.7
154.9
-1.6
165.1103
-3.31526
165.2041
-3.01531
0.093807
0.093807
0.128988
0.035181
19
155.1
153.3
-1.6
162.4706
-2.63967
162.2124
-2.99173
-0.25825
0.258251
0.184127
0.074124
20
153.5
151.7
-1.6
159.3777
-3.0929
159.2443
-2.96808
-0.13343
0.133434
0.060379
0.073055
21
151.9
150.1
-1.6
156.6548
-2.72291
156.2999
-2.94438
-0.3549
0.354901
0.280548
0.074354
22
150.3
148.5
-1.6
153.4399
-3.21493
153.3793
-2.92062
-0.06059
0.060594
0.087639
0.027045
23
148.1
146.3
-2.2
149.8192
-3.62067
149.4024
-3.97694
-0.41686
0.41686
0.342956
0.073904
24
146.2
144.4
-1.9
146.0767
-3.7425
146.0041
-3.39826
-0.07262
0.07262
0.002941
0.069679
25
143.6
141.8
-2.6
141.6569
-4.41986
141.4087
-4.59542
-0.24818
0.248176
0.098641
0.149536
26
141.4
139.6
-2.2
137.6217
-4.03518
137.5699
-3.83876
-0.05176
0.051758
0.050477
0.001281
27
139.1
137.3
-2.3
133.5789
-4.04278
133.6056
-3.96437
0.026653
0.026653
0.027015
0.000362
28
136.8
135
-2.3
129.7561
-3.82282
129.6914
-3.9142
-0.06473
0.064734
0.011753
0.05298
29
134.4
132.6
-2.4
125.7952
-3.96095
125.6607
-4.03068
-0.13447
0.134468
0.095365
0.039103
30
132.1
130.3
-2.3
121.5329
-4.26226
121.8496
-3.81106
0.316733
0.316733
0.316623
0.00011
31
129.7
127.9
-2.4
117.5707
-3.96217
117.927
-3.92259
0.356311
0.356311
0.35614
0.000171
32
127.2
125.4
-2.5
113.7647
-3.80602
113.9001
-4.02695
0.135376
0.135376
0.212173
0.076797
33
124.8
123
-2.4
109.7267
-4.03804
110.0912
-3.8089
0.364518
0.364518
0.287915
0.076603
34
122.3
120.5
-2.5
106.0684
-3.6583
106.1832
-3.90796
0.114857
0.114857
0.114999
0.000141
35
121
119.2
-1.3
103.5541
-2.51426
104.1752
-2.00799
0.621126
0.621126
0.620916
0.00021
Average
-3.92091
Average
0.269448
0.2625
0.065533
St

andar

d. Dev

iation

.
0.224626
St

andar

d. Dev

iation

.
0.331476
0.301521
Max.
1.359083
1.219975
Min.
0.000421
0.002941
Total Depth: 125.6549 mm
Average Layer Depth: 3.695733 mm