IBAC System Features
-IRIS aperture and X-ray beam width metrology

-Real-time beam profile capture

-Beam diameter accuracy to .05 mm

-Dose duration accuracy to 50 ms

-3D beam profile viewing and measurement

-Aperture width accuracy to .05 mm

-BeamWorks automated measurements

-Advanced statistical analysis via spreadsheet macros

-Archives all data for trend analysis

-Detached Iris operation for 80 cm SAD measurements

-Setup and training included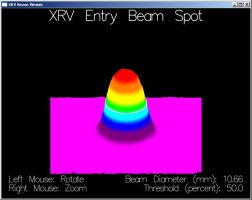 3D Beam Spot Viewing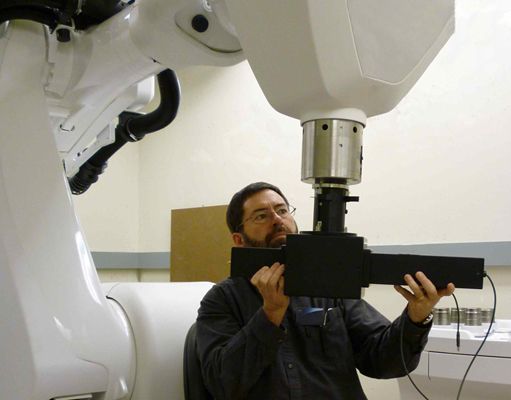 IBAC Camera Module
The IRIS Beam Aperture Caliper (IBAC) is the newest member of the XRV family of X-ray beam metrology systems. Combining precision metrology with high-energy radiation detection, the IBAC is a completely electronic alternative to film-based measurement.
The IBAC mounts directly to the CyberKnife robot and performs a variety of measurements at the exit point of the X-ray beam from the IRIS collimator. Beam profiles and aperture widths can be obtained with a single mouse click, and automation scripts can be used to record changes in the beam shape and intensity. Beam and aperture images are archived for later review and measurements are easily integrated into spreadsheet programs for trend analysis and report generation.
The IRIS aperture and beam measurements are accurate to .05 mm and repeatability is typically .02 mm. The camera module comes with a 3 to 30 meter (100 feet maximum) USB cable system so the operator can be located safely away from the treatment room.